Metal Cans for Coffee Roasters
Metal coffee cans provide the freshest quality and are the most sustainable coffee package available. 
With a hermetic seal metal coffee cans provide the ultimate barrier from oxygen and other gasses. This with the coffee valve attached to the easy to peel top keeps your coffee with the freshest quality.
Easy to use for the roaster and the end user; coffee cans come assembled and ready to fill. They stack on your shelf. To open just take off the cap and peel the foil. With a 4 1/16" diameter, cans are easy to use and easy to hold.
Curbside Recyclability makes metal cans the most recyclable coffee package available. According to the E.P.A., metal cans have the highest recycle rate of all food packaging. 
Infinitely Recyclable means metal cans are recycled again and again forever and never have to go to a landfill. By using metal cans you keep coffee packaging out of landfills – forever.We only use USA steel to make metal coffee cans.
Metal cans for coffee are the best choice for roasters looking to improve sustainability, ensure freshness, and increase operational efficiency.
Freshest Quality
Metal cans protect freshness better than any other package. We have tried a few blind taste tests after 1 week and 3 weeks and each time the metal can's coffee held the best flavor. This was not formal research but give it a try for yourself and see.
Easy to Use
A peelable top makes it easy to open. Then customers close it with a metal or plastic cap. All three can heights 4", 5 ½" or 7" make scooping or pouring coffee beans clean and easy. The 41/16" diameter fits most people's grip so these are easy to hold and easy to use.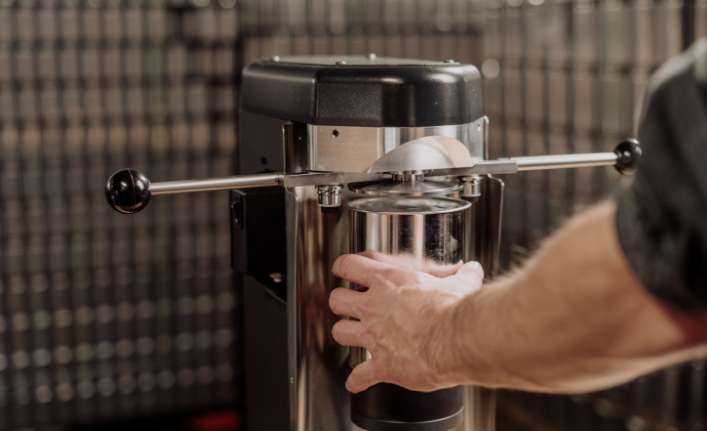 Production-Friendly Sealing
Metal coffee cans arrive open and ready to fill. Just fill the can and with a few quick moves in the Oktober seamer your coffee is sealed. You can add the label(s) before or after filling or have them arrived preprinted. With a rigid container automation is even easier.
Oktober Design has created a new metal can sealing machine specifically for specialty coffee roasters that is simple to use, reliable, and attractive.
Customizable Coffee Cans
With a 360 degree label make your designs continuous without corners and expand your canvas. The label sizes are up to you – full wrap or a partial label – show none, some, or all of the metal. However you label them, metal cans are the newest way to showcase your brand, your coffee, your work! 
They are stackable which can double your available shelf space.
Sustainability
According to EPA classifications and data, 72% of steel cans are recycled (nearly all coffee bags are currently not recycled or recyclable). Being magnetic, metal cans are easy to separate at landfills and recycling facilities avoiding landfills. It takes about 75% less energy to recycle steel.
Metal coffee cans are the only infinitely recyclable coffee packaging that is able to stay out of landfills – forever.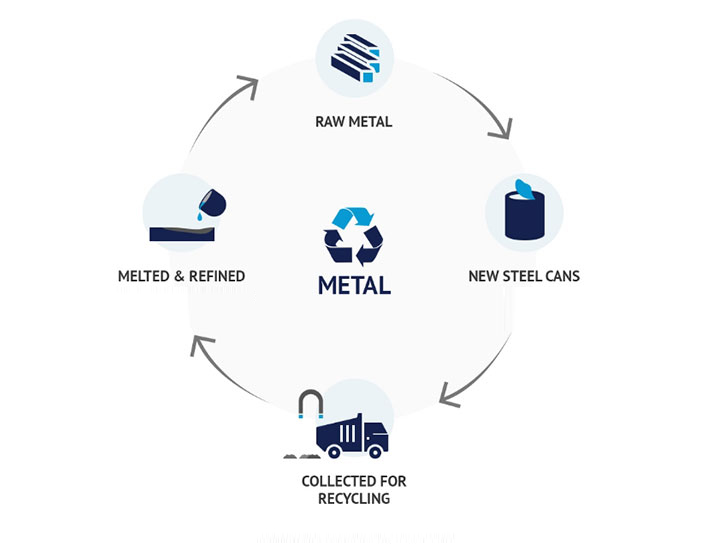 Get a Quote
For a price quote, call us or choose the items and amounts below and we will email you back. Your email and info are never sold.
(714) 892-8321